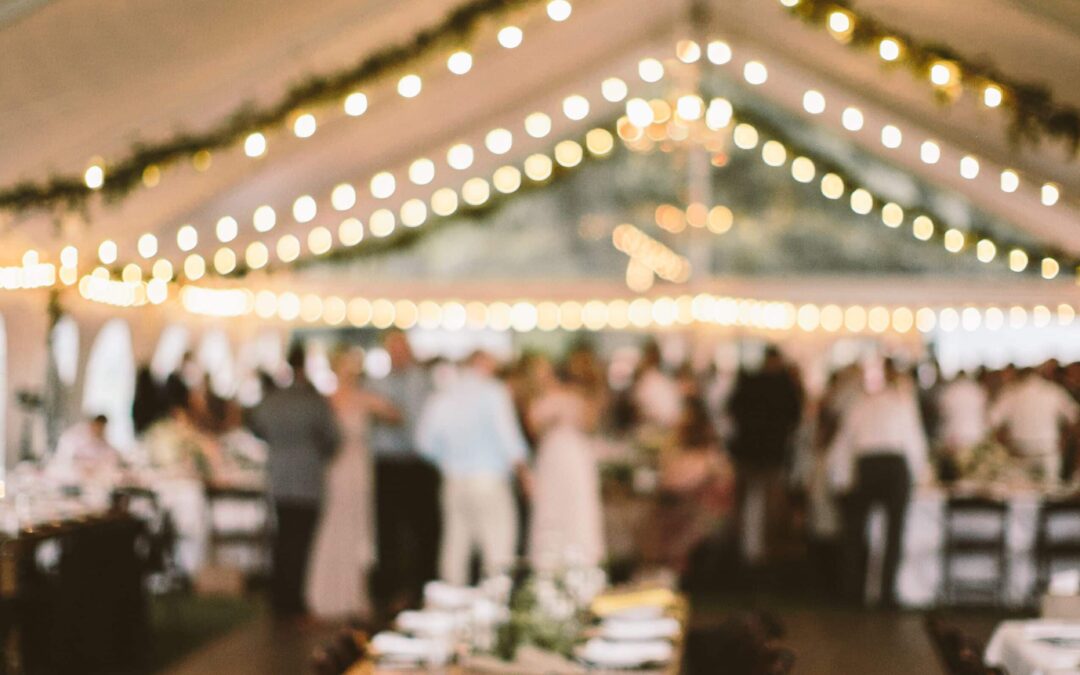 There is something about classic wedding photos that make us feel nostalgic and innocent, hearkening back to a simpler time. No wonder we find that engaged couples gravitate toward the elegance of a wedding style that draws on classic decor, food, dress and ambiance.
Luckily, crisp, elegant, and memorable weddings never go out of style – it's about looking past all the fads and choosing elements that have remained truly timeless. These styling tips will help you plan a wedding that transcends time by incorporating traditional and classic touches in a fresh way that's still very "now" in a style we at the Vineyard at 12 Corners call Classic Elegance.
Choose An Elegant Backdrop
When it comes to choosing a venue, think elegant and simple – a subtle canvas upon which you can layer some more traditional and classic elements without it feeling over-done. At southwest Michigan wedding venue, The Vineyard at 12 Corners, we find that the combination of a classic white tent and the additional touch of a winery, perhaps with wine-themed decor, set against a view of the vineyard, create a perfect backdrop for a classically elegant wedding.
Keep Decor Timeless
Classic neutrals like black, white, and grey can be blended with deeper colors like navy and emerald hues for effect, and you might incorporate metallics for an upscale, extra-elegant feeling. Light, summery colors can work, too – in this case, blending soft shades like pink, white, and natural tan can create a romantic feeling.
Floral arrangements will often center around well-known flowers like roses, dahlias, hydrangeas and peonies, often in a simple color palette and large arrangements. You can't go wrong incorporating florals into table decor, along with small touches like chargers and flat napkin folds to add extra sophistication to tablescapes. Additional touches like personalized guest books in colors and lettering that match invitations and guest place cards can be a nice touch.
Whatever you do, don't overlook lighting: luxurious, elegant elements like large chandeliers add flair, while more delicate details like string lights and lots of candles add to the romance. When used together in the right combinations, your lighting scheme can guarantee great photos.
A Traditional Experience
When it comes to the itinerary, a Classic Elegance wedding typically sticks to the tried-and-true. At the Vineyard at 12 Corners we find that most couples planning a Classically Elegant wedding choose to offer a cocktail hour with passed appetizers, a full bar with a signature cocktail or two and a traditional seated dinner. If a late-night snack is on the menu, it's usually a caterer-created option that's easy for guests to grab. Traditional, tiered wedding cakes are common in this style of wedding as well.
You'll likely lean into the most recognizable order of events, too, from the toasts and speeches to classic wedding dances. If you do choose to shake things up by changing the typical lineup or incorporating unusual activities, keep those surprises sparing to maximize impact and maintain the classic feel.
Let's Get Started
Ready to bring Classic Elegance to your wedding at the Vineyard at 12 Corners? Our beautiful, elegant winery setting offers the perfect backdrop for the timeless wedding of your dreams, with plenty of flexibility to use the space in creative ways to make your experience unforgettable. Contact us and we'll get started!